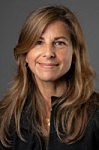 Greenwich, CT – January 15, 2019 – Townsquare Media, Inc. (NYSE: TSQ) announced today that Alyssa Goldberg was promoted to Senior Vice President, Human Resources. Going forward she will report directly to Chief Executive Officer, Bill Wilson. Ms. Goldberg joined Townsquare in 2014 and has led Townsquare's Human Resources department throughout her tenure at the Company.
"I am extremely honored and privileged to have a great partner like Alyssa to lead our Human Resources team," commented Mr. Wilson. "Alyssa embodies a key tenet of Townsquare – the philosophy of 'You Matter' – as she works with each and every one of Townsquare's team members to ensure this message resonates across our Company."
"We have extremely talented, creative and driven people at Townsquare and they determine our success. While Human Resources is well aware of this, the leadership team of any company needs to believe it as well in order for the employees to feel it," added Ms. Goldberg. "I'm grateful to be working with a leadership team that fully understands the importance of our people and are making them priority number one."
Ms. Goldberg joined Townsquare in 2014. Over the course of her career, which has included human resources roles at World Wrestling Entertainment and Viacom, Ms. Goldberg has created and implemented a wide range of programs from High Potential Development to a variety of training classes to employee engagement initiatives. Her focus as an HR Generalist has always been on working closely with employees and managers to make the employee-employer relationship as optimal as possible. Her background in social work has allowed her to put the "Human" in Human Resources. Ms. Goldberg is a Senior Certified Professional by SHRM, and earned a B.S. from NYU and a Masters in Social Work from Columbia University.
About Townsquare Media Inc.
Townsquare is a radio, digital media, entertainment and digital marketing solutions company principally focused on being the premier local advertising and marketing solutions platform in small and mid-sized markets across the U.S. Our assets include 321 radio stations and more than 330 local websites in 67 U.S. markets, a digital marketing solutions company (Townsquare Interactive) serving approximately 14,500 small to medium sized businesses, a proprietary digital programmatic advertising platform (Townsquare Ignite) and approximately 200 live events with over one million attendees each year. Our brands include local media assets such as WYRK, KLAQ, K2 and NJ101.5; iconic regional and national events such as the Taste of Country Music Festival, WE Fest, Country Jam, the Boise Music Festival, the Red Dirt BBQ & Music Festival and Taste of Fort Collins; and leading tastemaker music and entertainment websites such as XXLmag.com, TasteofCountry.com and Loudwire.com. For more information, please visit www.townsquaremedia.com, www.townsquareinteractive.com and www.townsquareignite.com.